Overview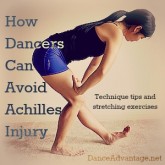 If you have pain along the back of your leg near your heel, you may have Achilles tendonitis. Achilles tendonitis is an overuse injury that commonly occurs in runners and ?weekend warriors?. The Achilles tendon is the largest tendon in the body. Named after a tragic hero from Greek mythology, it connects your calf muscle to your heel bone to allow you to jump, run and walk. Achilles tendonitis is most common in middle-aged men, but it can happen to anyone who has a sudden increase in physical activity. The risk is increased if you also have tight calf muscles and/or a
flat
arch in your foot. Other risk factors include running in worn out shoes, cold weather, frequently running uphill or if you suffer from medical conditions such as diabetes or high blood pressure. There are two main types of Achilles tendinitis: insertional and noninsertional. Insertional Achilles tendinitis involves the lower portion of the heel, where the tendon attaches to the heel bone. Noninsertional Achilles tendinitis is when the fibers in the middle portion of the tendon have started to break down with tiny tears, swell, and/or thicken. This type is more often seen in younger, active people. Both types can also cause bone spurs. Achilles tendonitis should be diagnosed by your doctor. However, if you experienced a sudden ?pop? in the back of your calf or heel, this might be
something
more serious like a ruptured or torn Achilles tendon. If this happens, see your doctor immediately.
Causes
Hill running or stair climbing. Overuse resulting from the natural lack of flexibility in the calf muscles. Rapidly increasing mileage or speed. Starting up too quickly after a layoff. Trauma caused by sudden and hard contraction of the calf muscles when putting out extra effort such as in a final sprint. Achilles tendinitis often begins with mild pain after exercise or running that gradually worsens.
Symptoms
In most cases, symptoms of Achilles tendonitis, also sometimes called Achilles tendinitis, develop gradually. Pain may be mild at first and worsen with continued activity. Repeated or continued stress on the Achilles tendon increases inflammation and may cause it to rupture. Partial or complete rupture results in traumatic damage and severe pain, making walking virtually impossible and requiring a long recovery period. Patients with tendinosis may experience a sensation of fullness in the back of the lower leg or develop a hard knot of tissue (nodule).
Diagnosis
X-rays are usually normal in patients with Achilles tendonitis, but are performed to evaluate for other possible conditions. Occasionally, an
MRI
is needed to evaluate a patient for tears within the tendon. If there is a thought of surgical treatment an
MRI
may be helpful for preoperative evaluation and planning.
Nonsurgical Treatment
The recommended treatment for Achilles tendinitis consists of icing, gentle stretching, and modifying or limiting activity. Nonsteroidal anti-inflammatory medications (NSAIDs), such as ibuprofen or naprosyn, can reduce pain and swelling. Physical therapy and the use of an orthosis (heel lift) can also be helpful. For chronic cases where tendinosis is evident and other methods of treatment have failed, surgery may be recommended to remove and repair the damaged tissue.
Surgical Treatment
Surgery is considered when non-operative measures fail. Patient compliance and postoperative management is an important
aspect
of the operative management to prevent ankle stiffness or recurrence of the symptoms. Surgery usually requires a removal of the damaged tissue (debridement) and meticulous repair of the tendon. Post-operative immobilization is required, followed by gradual range of motion and strengthening exercises start. It may require 6 months for the full recovery. Some known complication are recurrence, stiffness of the ankle and deep vein thrombosis.
Prevention
By properly training the body, an athlete can build the strength of their tendons and muscles. Following a workout and dieting plan, the body will be able to build muscle and strengthen most effectively. Additionally, doing the following can prevent tendinitis. Wearing appropriate shoes will give your foot the support it needs for proper movements of the foot and ankle. Improper movements will put additional stress on your body. Stretching before an athletic activity, Stretching primes the body for a taxing activity. Additionally, this will get your blood flowing and reduce the risk of pulling a muscle. Ask your doctor about orthotics, Custom orthotics can help get your foot into proper alignment. If the foot does not execute proper mechanics, the body will adjust which will cause pain and increase the chances of injury.